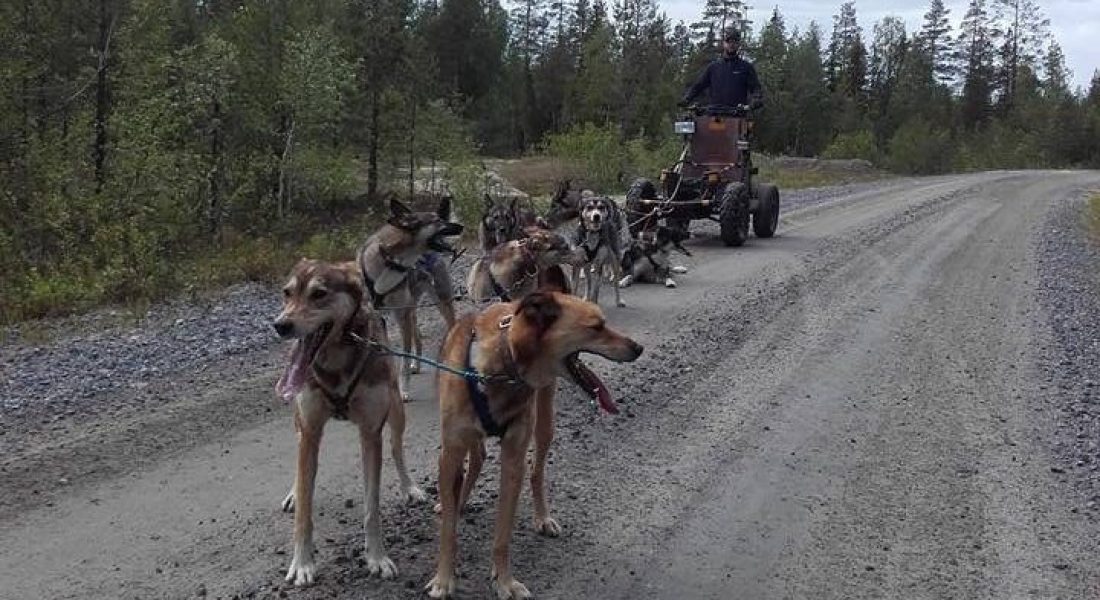 Kennel visit, dog training and bbq lunch
After summer holidays the temperatures drop and are perfect to train the dogs again so they will be fit for winterseason. Experience this exciting time together with us and the dogs! We will meet the huskies and put on their harnesses so they are ready for the run. We take 14-16 dogs in front of the training-vehicle and you will join as a passenger. We have a bbq-lunch somewhere halfway or in the kennel when we return.
Total time: 4-5 hours Price: SEK 1350,- pp * Maximum 3 adults (or 2 adults and 2 kids)
** Not possible in weekends
The Kennel – Yellowsnow Husky Tours

Together with 16 adult dogs and 6 puppies we (Erik & Sanne) have our home in a small village called Krokträsk. In the winter we organise dogsledding trips through a white winter wonderland.
Come and visit us and our huskies in the Autumn!
We have 3 different programs for you. In all the programs you will get a tour through the kennel, get to cuddle our puppies and other dogs and if you are interested you will get a lot of information and stories about sleddogs in general, our breeding program, training, dogsledding, winterexpeditions etc.
Extra information:
> Time: Start and end time is flexible
> Language: English, Dutch, German or Swedish
> Transfer: from Luleå one-way per car (max 4 persons): SEK 1000,-
Bring clothes that are suitable for the weather and activity!